Big Finish Folly, Part 15e – Alien Heart, by Stephen Cole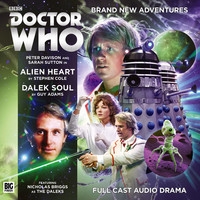 In the TARDIS, the Doctor and Nyssa stumble across a trail of ten destroyed worlds, all of them obliterated by means of some utterly monstrous but utterly unknown device. The planet Traxana would seem to be next in line to suffer the same fate. But when the TARDIS lands on an outpost on Traxana's moon, Nyssa is carried away by a tide of giant green arachnoids, leaving the Doctor behind…
And the coming menace is closer than he thinks.
Now, here's an oddity. Big Finish have decided to experiment in the Main Range with the same format of stories that they have previously employed with both the Fourth and the Eighth Doctors – hour-long, two-episode stories. This means condensed, faster paced storytelling, sharp set-ups, less room to lay out and get overly indulgent, perhaps. Sometimes, it can be a good thing. Your mileage may vary. Since the Main Range releases are double-disc, four episode releases however, that means we get two stories for the price of one. Hence Alien Heart and Dalek Soul on the same cover picture over there. And hence the thematic echo of the story titles. We've had three-episode stories in the Main Range before, and single-episode stories too – but how well do the Legacy Doctors fit into this particular mode of storytelling?
And – the big question, of course – is it any good?
Well…