I'm going to break from the Seventh Doctor's adventures here to catch up with some of the other incarnations. It's all relative, you see…
Oh – and Adric. In the Main Range. GET IN.
Big Finish Folly, Part 0C – The Star Men, by Andrew Smith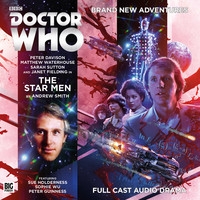 Astronomical navigation is a tricky business. To help Adric with his studies, the Doctor sets course for Gallius Ultima – a planet on the edge of the Milky Way, housing one of the most impressive observatories ever constructed.
But the TARDIS arrives to find Gallius U in a state of emergency, tracking the return of the Explorer-class ship Johannes Kepler from its mission into the heart of the mysterious Large Magellanic Cloud. A mission that met with disaster…
To find out what overtook the crew of the Johannes Kepler, the Doctor and his companions must journey into the heart of the Cloud… and beyond, into the darkness of another reality altogether. The universe of the Star Men. (more…)