We take a quick break from the Seventh Doctor's continuing chronology to dip back into the adventures of Peter Davison's Tardis Team. The Waters of Amsterdam is set between Time Flight and Arc of Infinity – so, in that nebulous space where all of Five's solo adventures with Nyssa so far have been squeezed in – and therefore, in audio terms, just before The Elite. The other two stories in the trilogy can be comfortably placed post-Children of Seth. While it's a shame not to have the entire crew aboard (no Turlough this time), The Entropy Plague did wrap up that particular storyline fairly definitively. Onwards, then!
Big Finish Folly, Part 16b – The Waters of Amsterdam, by Jonathan Morris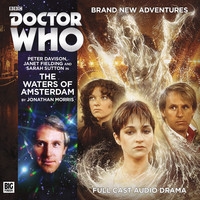 Reunited with the Doctor and Nyssa, Tegan joins them on a trip to Amsterdam's Rijkmuseum to see a new exhibition of the work of Rembrandt van Rijn, featuring his drawings of "Vessels of the Stars". The Doctor is astonished to discover that they are designs for spaceships that would actually work, and decides to pop back to the Dutch Golden Age for a quiet word with Rembrandt – but the world-weary artist is no mood to help.
Meanwhile, strange forces are swirling in the canals, creatures from ancient myth, the watery, goblin-like Nix. What is their connection to the mysterious Countess Mach-Teldak – and to the events of Tegan's life during her year away from the Doctor? (more…)