Big Finish Folly, Part 159 – Enemy of the Daleks, by David Bishop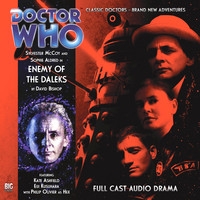 Bliss used to be a paradise planet. The Galapagos Islands of space. But when the TARDIS brings the Doctor, Ace and Hex to Bliss, it's been over-run with ironweed plants, and the air is heavy with the stench of burnt silk and static electricity.
Worse, the Daleks are coming, on the trail of a lost patrol of starship troopers. Holed up in the Roarke 279 research facility, Lieutenant Beth Stokes is preparing her last stand against the invaders.
But there's a secret on Bliss, a secret guarded by the obsessive Professor Shimura…
This time, could it be the Daleks who need saving? (more…)