Big Finish Folly, Part 15f – Dalek Soul, by Guy Adams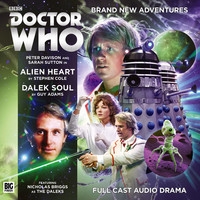 On the Dalek-occupied world of Mojox, a group of rebels is engaged in a futile fightback against the invaders – but at last they've found an ally, in the form of the mysterious Doctor. Elsewhere, however, the Daleks' Chief Virologist is seeking to perfect a biological weapon to wipe out the Mojoxalli, once and for all.
Her name… is Nyssa.
The flip side of Alien Heart, this is another two-part story. And I'll be talking possible spoilers below the cut, so beware…
Still here? Good. Hopefully Alien Heart didn't put you off too much. It wasn't the most impressive start to an experiment. But Dalek Soul is so much better. You can tell something is amiss when you find Nyssa mixing up diseases for the Daleks, allowing test subjects to die like she was always doing what was best for the Reich. It's so unlike her character that you can't help but listen, appalled. And then the Doctor has to take things one step further – and by this point the listener should be properly agog. There aren't too many ways this could have happened, of course, and as Doctor Who fans we should be familiar with how these stories are constructed, but it's certainly different to hear Peter Davison and Sarah Sutton playing alternate and evil versions of their usual characters. Peter Davison in particular absolutely revels in the opportunity, delivering every single line with barely concealed malice. It's wonderful. And Sarah Sutton's complicity-for-the-sake-of-science would be a stand-out act in any other play on its own. The first half cliffhanger isn't so much a cliffhanger as a total full stop, and it's a brilliant performance, even if the listener has seen it coming for a good few minutes.
In the abbreviated running time something has to give way, and the actual consequences of Alien Heart are dealt with in a neat, possibly slightly too pat sequence of playbacks so that both Nyssa and the listener can understand how we got here. Thematically, we're looking at a sort of cross between Natural History of Fear and Creatures of Beauty – how the Doctor's presence can affect worlds even after he has moved on. For once the Daleks aren't just villains of the week, or easy knockdowns, as they can often be – they've almost crucified an entire world here, and they do exterminate Nyssa as well as an entire batch of rebels. They're truly nasty bastards, as reflected in the personality they have given the Doctor.
Nicholas Briggs has talked elsewhere about how he sees the future of Big Finish's Doctor Who ranges in faster modes that echo the modern TV series as much as they hark back to the nostalgic '70s. It can't be Saturday teatime in 1977 all of the time – and on this evidence, he's got a point. There are definitely new stories to tell, in new formats, breaking away from the mould of the four-part Main Range style. Is it the inevitable, all-encompassing future? I hope not, but at the same time Dalek Soul would not have worked as a four-part story in the same way that NHoF and CoB did. Diff'rent Strokes, indeed.
****½