Big Finish Folly, Part 0D – The Contingency Club, by Phil Mulryne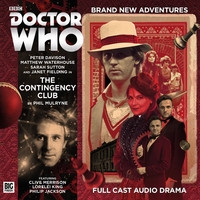 London, 1864 – where any gentleman befitting the title 'gentleman' belongs to a gentlemen's club: The Reform, The Athenaeum, The Carlton, The Garrick… and, of course, The Contingency. Newly established in St James', The Contingency has quickly become the most exclusive enclave in town. A refuge for men of politics, men of science, men of letters. A place to escape. A place to think. A place to be free.
The first rule of the Contingency is to behave like a gentleman. The second is to pay no heed to its oddly identical servants. Or to the horror in its cellars. Or to the existence of the secret gallery on its upper floor… Rules that the Doctor, Adric, Nyssa and Tegan are all about to break.
As we've discovered over the years, one thing that both Doctor Who and Big Finish are very good at is an old-fashioned period romp. Right back at the very beginning of the Main Range, with Mark Gatiss's Phantasmagoria, Big Finish laid out the stall of big characters, mad devices, and wry pastiches. This is a very different style to the straight historical adventure, mind you, where there's nothing alien or anachronistic to twist the peril of being in a dangerously different time period – as The Contingency Club shows, this sort of period romp can be done with panache and humour as much as danger and daring. (And if you need any more proof of Big Finish's skill in this department, you only have to look as far as what they've achieved with the spin-off Jago & Litefoot range)
The Contingency Club is a very lively piece, with plenty of running around, confrontations galore, and some truly wonderful characters for the cast to chew upon. Chief among these are Philip Jackson's Peabody, Lorelei King's Red Queen, and the multiple Edwards all played by Olly McCauley – and that last batch of parts in particular draws on the humour of all servants being exactly alike, a device that works perfectly here. The plot is relatively simple though one that would fit easily alongside Jago and Litefoot's investigations – the future of Britain is at stake as the Red Queen draws a cabal of scientists, politicians and other "influencers" to her club so that she can take over the country. For a bet. Nothing more, just a bit of a game. Naturally, the Doctor's not very impressed by this. Cue shenanigans.
Listening to this, you start to wish there had been more adventures with this team much earlier in Big Finish's history. Replacing Turlough's cynicism with Adric's abrasive naivety changes the dynamic, actually makes the Doctor a more active participant in events, determined to protect his team. We know how that all ends, of course, but he doesn't. There's added flavour in the relationships between the three companions too – here, Tegan is still intent on getting back to Heathrow, and Adric is very much an outsider. By contrast, Nyssa seems a touch underwritten, as though having developed her so much in (chronologically) later audios, the writers can't quite work out how to reset her character to an earlier mode.
Despite the fact that, like (Groucho) Marx, I'd never be a member of any club that would let me in, The Contingency Club is definitely one well worth joining.
****½