Big Finish Folly, Part 157 – 45, by Mark Morris, Nick Scovell, Mark Michalowski, and Steven Hall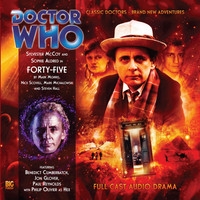 In Egypt, archaeologist Howard Carter unearths an ancient secret buried in the Valley of the Kings. On an island of Mendolovinia, a deranged academic attempts to push back the frontiers of the human mind. In war-torn London, a cockney spiv takes possession of a bizarre alien object. And in a military bunker in the cold heart of Antartica, the strangest and deadliest of the Doctor's many enemies lies in wait…
Time to change the paradigm – and not before time, either. With The Dark Husband marking a nadir in the quality of the Seventh Doctor's run, something – anything – was needed to pep it up and make it a bit more modern. Thankfully, after dropping the short-lived experiment coupling three-part adventures with a single-episode adventure, Big Finish hit on the idea of the anthology release. (The first of these collections was Circular Time, which I suppose really told one story spread over a whole incarnation. It was followed by 100, which marked 100 releases in the Big Finish Main Range. 45 marked the 45th anniversary of Doctor Who. After these event releases, the anthology release has become an annual event itself.) As well as massively speeding up the whole sound of the plays, the anthology releases allowed a very modern playfulness back into the range.
The concept here, playing on the number 45, doesn't become truly clear until the final story, Steven Hall's The Word Lord, which takes a very audio-friendly SFnal concept (words have power…) and really jiggers about with your perception of the previous three stories. Also, The Word Lord isn't done with the Doctor yet…
Back at the beginning, False Gods gets to play with pyramids, Time Lords, the beginning of civilisation, and still fits Benedict Cumberbatch into the mix without having him take over the play entirely. Order of Simplicity dumbs down a bit and for me is something of a time-filler, notable only for the fact that here Cumberbatch's major contribution is supportive monsterly moaning. Casualties of War gets Ace to meet her own mother as a child, which has the potential to cause a lot of problems – and fortunately manages to avoid them all via Ace herself lying to the Doctor and Hex about which house is which.
Not classic stories, but speedy and modern and thankfully a whole lot better than the bogged down run Seven's adventures were turning into before this. I may even find myself able to carry on this supremely quixotic adventure…
***½