Big Finish Folly, Part 156 – The Dark Husband, by David Quantick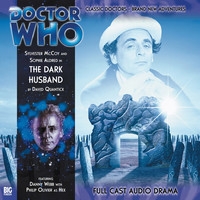 "This whole wedding is like making a nuclear bomb with half the instructions missing!"
A week-long respite from a prolonged and bloody war, the Festival of the Twin Moons of Tuin makes Glastonbury look like a church fete… or so the brochure says. The Doctor and Ace are looking for rest and recreation. Hex is looking for the beer tent. But eternal enemies the ginger-haired Ri and the coot-bald Ir are plotting to turn their Festival truce to their own advantage. Only the Dark Husband might stop the celebrations turning to horror… but who is the Dark Husband? And what terror awaits him on his wedding night?
If anyone knows any just cause or impediment… speak now. The lives of billions depend on it.
Sorry, I've been away for a while. This is a busy time of year for me, including three conventions and a book launch amongst other things, so I've not had a lot of time on my hands. Plus, I subscribe to far too many podcasts – I need to cut that list down drastically as it's eating into my Folly time. Essentially, what I really need is an additional three hours in every day.
Or, perhaps, audio plays I can face finishing.
The Dark Husband should be an easy listen. That's what the reviews clipped on the Big Finish website promised. Doctor Who Magazine in particular. Hmm. It depends how you define easy listening, I guess. An alien that shouts like a poor impersonation of Brian Blessed in Flash Gordon isn't high on my list. And I'm happy for Doctor Who to include moments of comedy, but not at the expense of decent characterisation – in The Dark Husband Hex is reduced to a bit of a joke, with alcohol-free beer and more snippy Scouse comebacks than an episode of Brookside. There is depth – his relationship with Ace is reaching a difficult territory, unmapped and dangerous – but it's all overwhelmed by shouting and bickering on all sides. Simply put, everybody's a little bit snippy.
Even the plot itself is all about the bickering. Two sides to the eternal war, a "marriage" that is anything but, a petulant god with a desire to kick over the sandcastle it has built… and the Doctor, in the middle of it all, realising what is going on several times, and never telling anybody else in case he manages to bring the play to a premature (and frankly welcome) close. It's very much in line with the tail-end of the TV series, in that something that could be rather serious (gene-specific genocide) is being played for laughs, failing to manage the balance between comedy and tragedy effectively. (It's also very tightly cast, with Danny Webb playing most of the alien voices himself – I'm not saying it's been done on the cheap, but I reckon Big Finish must have needed the budget elsewhere in 2008).
As part of the ongoing Ace-Hex arc, it deserves to be listened to because it forces the two characters to think about how they feel for each other (with at least one of them in denial). But it's not a play I'll recommend for the casual listener, to be honest. I've found myself listening to other things rather than finish The Dark Husband.
**¾