Big Finish Folly, Part 153 – The Settling, by Simon Guerrier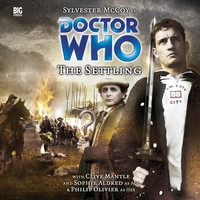 Note to Sir Arthur Aston, governor of the town of Drogheda, 10 September 1649.
"Sir, Having brought the army belonging to the Parliament of England before this place, to reduce it to obedience, to the end effusion of blood may be prevented, I thought fit to summon you to deliver the same into my hands to their use.
If this be refused, you will have no cause to blame me.
I expect your answer and rest your servant.
O. Cromwell."
We're not out of the Darklands yet. The Doctor's adventures inside other peoples' heads continues with an examination of Oliver Cromwell's motivations and psyche as he attempts to pacify Ireland. Simon Guerrier's script is weighty and rather short on giggles, as befits the Puritan era, but the unceasing agony is difficult to take across the whole length of four episodes, and some tonal relief might have been appreciated along the line.
You certainly don't want to get in the way of Clive Mantle's Cromwell though. The man dominates the play and all others must dance around him, including the Doctor. More pertinently, Hex is drawn into his orbit and finds he cannot escape the man's sheer gravity, attempting to act instead as Cromwell's conscience, well aware of the horrors that lie ahead in the pacification. Ace is on the other side of the battle lines, trying to save lives in her own way. Despite the Doctor's warnings, they're both so deeply involved that they will fight rather than avoid interfering with history.
To emphasise the scale of the trauma Ace and Hex have gone through, we see events through a framing device, looking back at the horror. It's effective, and it adds more depth to the relationship between Ace and Hex, but it also makes the play seem a lot longer again. There's the brilliant vision of a mountain range within the Tardis, which also contrasts well against the historical grimness.
You could see The Settling as a forerunner of things to come – The Peterloo Massacre is definitely cut from the same cloth. Sylvester McCoy's Doctor doesn't lend himself easily to pure historicals though, there's something about him that refuses to be a part of the flow, far more so than any of the Doctor's other incarnations.
By no means the worst of this run through the Hex years – that honour is currently held by Night Thoughts – The Settling is a solid, stern sermon in the inevitability of history and the cult of personality. Like Christmas with the Puritans, it's perhaps endured rather than enjoyed.
***