Big Finish Folly, Part 149 – The Harvest, by Dan Abnett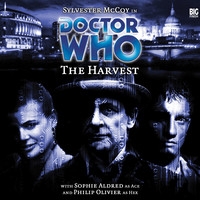 London, 2021. St Gart's Hospital is a technological wonder, administrated by the all-seeing System. Thomas Hector Schofield, one of the hospital's A&E nurses, is about to begin celebrating his birthday when one of his best friends is wheeled in after an RTA. When that friend is declared dead and his body disappears, and the young temp from HR, McShane, asks Schofield to help her access the hospital's restricted floors, it's just the beginning of a bad week for "Hex". Because there's something sinister happening up on the 30th floor of St Gart's, and the men behind it will do anything to protect the Euro Combine Health Administration's investment in Program C. And as the hospital's mild-mannered janitor knows full well, resistance is futile…
After the (frankly) confused mess that was The Rapture, The Harvest (what's with these The [Thing] titles all of a sudden?) is a welcome return to form for Sly Seven and Just McShane. It also returns the Doctor to the long-running and convoluted Main Range Forge storyline, but we'll get onto that in a while. First, the story itself – and a new companion.
Philip Olivier plays Hex, and in true Big Finish tradition – Evelyn, Charlie, Erimem and so on – comes in as a fully-formed, well thought out character. Obviously, given his background in Brookside, Olivier is no stranger to drawing characters with broad yet accurate brushstrokes. Hex isn't a million miles away from Tinhead in any case, but he definitely has far more maturity and thoughtfulness than Thomas Brewster (for example). Better yet, he's a supporting character with real skill, as you'll see in the next few stories, and that allows him to get into places that other companions might never have had access to. The other thing worth noting is that there's already something about Hex's past that the Doctor is aware of, something that the audience isn't allowed to know yet, something that Hex himself may not be aware of… alert followers of the Folly's infinite quest might now be nodding and harking back to Thicker Than Water…
Once we're past Hex's OHMYGOD reaction to the Tardis and the Doctor's past, The Harvest conforms to a sort of mid-2000s bleak near-future Earth that Big Finish had its eye on as the tone for the Doctor's travels. You'll have seen this in Project Twilight and the first half of Project Lazarus, and in The Gathering (which, along with The Reaping, was written to tie The Harvest into The Forge's continuity). The difference for me is that The Harvest is a lot more smoothly done, fusing bureaucracy, paranoia, and action together in a very modern Promethean tale. You could note that Dan Abnett's script is very anti-European (relevant at the time of writing this review, where we vote on the wisdom of sticking our collective heads in the Brexit oven in three days time), or you could note that bureaucracy of any stripe takes the humanity out of administrator Garnier's vision. And the irony of that, while the cybermen holed up on the hospital's hidden floors have been attempting to regain some of their lost humanity, is what pulls The Harvest up over four stars.
You want action? A motorcycle chase, a massacre in a hospital, Frankenstein's monster breaking free of its chains… Abnett takes his script to the edge and the cast follows breathlessly. It's an awesome ride and, because it's Abnett at the helm, you can't be certain that everybody's going to reach the end alive and intact. Contrast this with the much earlier Project Twilight, which for all its vampires, blood and killing, fell awkwardly flat. And now we have a three-piece Tardis team with different dynamics – I'm hoping that the next few plays in the chronology will pick up the batting average and carry this momentum through.
****½